---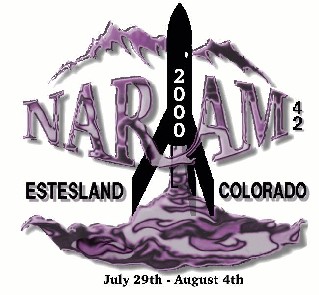 Welcome to the official web site for NARAM 2000! Members of Colorado's rocketry community are excited to be hosting the NAR's 42nd Annual Meet. The organizing committee for this event is made up of members from various local groups, including COSROCS, CRASH and Tripoli Colorado.
---
Cineroc Video Clips
Thanks to Mike Jerauld for sending the video clip from his Cineroc flight at NARAM 2000. I've included two links here to the 'mpg' format - this is the most compressed format and should download the best. If you have problems with this format and need it in either an 'avi' or 'mov' format send me an email at webmaster@naram2000.org and we can try to work something out.
---
The final results of NARAM 2000 are in and posted. Congratulations to everyone who competed - well done!
---
Here are some photos of the Giant Scale models that have been entered at NARAM 2000. Lots of great work here!
If anyone has more information (names/models/etc.) they would like included in the descriptions, please cut and paste the URL for the picture and email it to info@naram2000.org. I'll try to make the updtes as soon as I get the information.
---
Daily Updates
8/4/2000 - Day 7 Report/Pictures
The final day of NARAM 2000 was yet another great day to cap off a wonderful week. There are quite a few pictures of the scale launches, and some pictures from the banquet. The announcement of NARAM 43 being held in Geneseo, NY was also made. Find the details here.
8/3/2000 - Day 6 Report/Pictures
Today we had D-Rocket Glider and C-Egg Loft Duration events. Some of the gliders had problems due to the wind - and others had problems due to lots of other things ;-) At any rate, a good time was had once again as we get close to the end of the competition.
8/2/2000 - Day 5 Report/Pictures
The events flown today included D-Super Roc and A-Boost Glider. In addition to the competition, the mid-week social was enjoyed by all who attended. The social was followed by the NAR auction to benefit the NAR's scholarship fund. A record amount was raised!
8/1/2000 - Day 4 Report/Pictures
Today featured 4A cluster altitude and 1/2A helicopter duration. Another great day - with the copetition taking the spot light for the most part, although we had an active sport range throughout the day as well.
7/31/2000 - Day 3 Report/Pictures
The first day of competition - 1/4 A Parachute and B Streamer duration events. See pictures here.
7/30/2000 - Day 2 Report/Pictures
Day 2 at the launch site was another great day! Still some meetings coming up tonight to discuss the contest starting on Monday. Click here to see some pictures from Day 2.
7/29/2000 - Day 1 Report/Pictures
Well we finally got to launch some rockets! It was an interesting and fun day. You can check out some info and pictures by going to the Day 1 page. I'll be posting daily reports through the end of the week. Although Sunday may be a little light because I have to break away for most of the day.
There are some additional Day 1 photos (nice ones) here by Joe Claunch.
You can also check out some NARAM Live pics on Chris Taylor's site: http://www.nerys.com/naramlive/.
---
7/28/2000 - One Day to Go!
People are already showing up - it should be a great week! Here's some info/links to keep handy.
I'm really hoping I'll be able to post some pictures daily - if everything works out I should be able to each evening. Keep watching.
---
7/25/2000 - Some Late Breaking News
It's hard to believe that we're only a few days away from NARAM 2000! We've been busy getting things done, and we have some news you might be interested in.
More to follow soon . . . keep checking between now and NARAM for updates. For those of you that can't make it, I hope to be able to post pictures of those that can so you can feel a part of the activities (virtually speaking).
---
6/29/2000 - Waiver Announcement
It is with much regret that we inform you that there will be no waiver for NARAM 2000. Launches will be limited to 1500 grams (3.3 lbs.) and 125 grams of propellant. You can read all the details here, in an announcement by Dan Wolf.
---
T Minus 2 Months and Counting!
5/30/2000: Lots of updates have been made to the site - some corrections and updated information of note are:
---
10/21/99: Announcement from Ken about the hotel situation. Check the lodging page for more information.
---
NARAM Returns to Colorado for a Sixth Time!
A letter from Tim Van Milligan making an official announcement about NARAM2000.
---
Find out about all the events that will be flown at NARAM2000.