Naram 41 Day 1 1999
The Flight Range opened at 8am. I arrived at about 7:50
The Field was only about 15 minutes from the hotel. Although the field is not large it is long! so if the wind is in the right direction there is plenty of room for even the high flyers. Vendors were already starting to set up.
It was QUICKLY found out that C Payload competitors who did not already have there engines were in BIG trouble !! Apogee had only 2 C10-7's left and I got them (pheww :-) I actually needed C10-10's but would only lose 50 feet with the 7 Without the Seven's the next best engine was 500 feet worse !!
I did a poor job of tracking the names of people and rockets - Tomorrow I will take a recorder with me to make it a little more accurate. So for now I will display the pictures and any descriptions I can remember.
| | |
| --- | --- |
| Here is the Sport Range Tent | |
| | |
| --- | --- |
| | The First launch of the Entire meet was the Official Naram 41 Rocket the N-41 which looks kind of like a V2 with extended fins |
Above Right a Modeler prepares his rocket for Flight on the pad.

Here I boost my SR-71 R/C Blackbird for it first flight of Naram Good Boost with Loop at apogee (I like doing that :-) and A nice soft landing 30 seconds later
(??) prepares his Stingray for Boost practicing for the Sunday RCRG Contest

Below is a VERY Cool Picture of George Gassaway's Klinberg Rocket Powered Flying wing climbing into a gorgeous sky !

This scan does NOT do it justice !!
| | |
| --- | --- |
| | George Brings the wing past on its final approach for landing. |
| | |
| --- | --- |
| Here is my Scratch built conversion of a Styrofoam Glider to RCRG I underestimated the POWER of the E-15 and a micro second after this picture | |
| | This Occurred :-) Oops well it cost lest than $20 ! George was at the controls for safety since he was more experienced - I blame him for nothing - the fault was in my misalignment of the Motor mount - It happened so fast it was breathtaking ! |
Here is a Rocket off the High Power Pad

Can you say Going Going Going GONE !!!
My Newest Incarnation of the MPGB designed for the Turbo 2000 Foam Gliders.

Here it Boosts on an Estes D12-3

Here are the 2 Gliders and Booster a mere second after separation.
Ooops Slightly Unstable - It proceeds to loop again twice more Launch straight up and Loop again before Finally ejecting :-)

It had a Bunch of D12 air starts and they appeared to NOT fire In Sync causing the intermittent instability and then stability.
ALSO I am sorry I do not have his name (I WILL get it) another Modeler developed his 2 rolls from his Rocket Boosted Camera's - many were Simply shots of the ground before and after Flight so I am only going to scan a select few.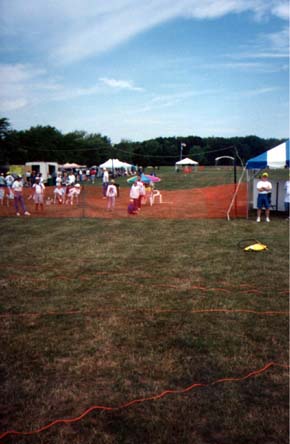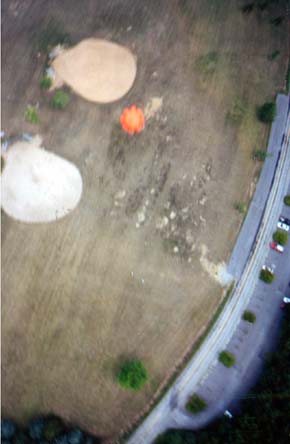 Here are a couple of pictures from the Old Rocketeers Reunion AND also a Patch given to those with NAR Number of 45,000 or lower